So I've noticed on a few blogs I visit they do this Meme called Mamarazzi Mondays. It's the Mama version of paparazzi of course.
I then thought to myself, I'm obsessed with taking photos of my daughter, maybe I should start doing this and posting the some of the ones that don't make the cut for others to see. Seriously ya'll, I have THOUSANDS. I won't put you through all of them. Although, they are pretty cute, so I may have to dig up some vintage ones occasionally.
So onto my very first Mamarazzi Monday! There's even a cute button for it. Click
here
to see other Mamarazzi links.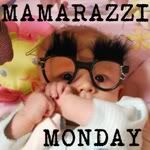 These are from today's 28 week photos
If you make this one bigger, you can see her tooth! :) Such a proud Mom.